Are you looking for sun-soaked activities? Do you expect to enjoy party with your friends? Well, The Summer Beach Party is waiting for you! Head to the beach party and take a look around.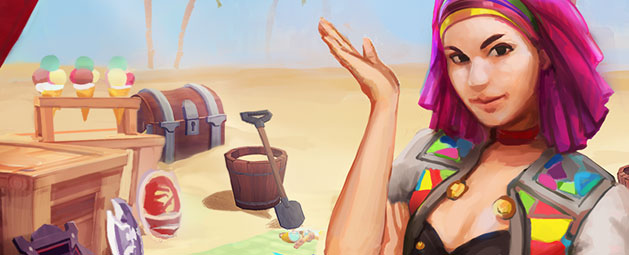 The summer beach party is in full swing, making Lumbridge Crater the place to be until the end of August. It's the ideal place to relax with your friends, take part in your favourite D&Ds via the portal hub, and enjoy some sun-soaked activities. Besides, you can pick up some unique rewards from activities.
Following is activities of The summer beach party:
Fight Clawdia: At 45 past every hour, killer crustacean Clawdia will spawn at the crater in the middle of the beach party. Her damage scales to your life points, so everyone can dive in and help drive her back.
Build sandcastles: Follow the clues given to you by the nearby visitors and build the right castles for Construction XP.
Fish at the rock pools: Cast a line, kick back and get some Fishing XP while you're at it. Drop off the fish at the barbecues for extra XP.
Bust out the barbecue: Hit the barbecue stands and earn Cooking XP.
Pick coconuts: Gather coconuts from the palm trees for Farming XP, then deposit them at the coconut shy for extra XP.
Try the coconut shy: Test your skill at the coconut shy and earn Ranged XP.
More activities are coming over the next few weeks. Keep an eye on the news!
Every 15 minutes one of the XP-giving activities will be spotlighted, and it will yield +10% XP. Note that Ironman players earn 50% less XP for participating in beach activities.
You can keep earning XP until your temperature gauge fills up completely, although this can be reset up to three times a day by consuming ice creams.
You can pick up following unique rewards from activities:
Ice cream: This tradeable item resets a full temperature gauge to 0. You can use up to three per day.
Anti-sun potion: Also tradeable, this item gives a +5% boost to any XP earned on the beach – that includes beach activities and any other training done there. The effect lasts for 24 hours (real time, not time spent logged in).
Cocktails: These come in four fruity flavours, each boosting XP gain in a different group of skills – combat, artisan, gathering and support. By drinking more of the same type, you can stack the XP boost up to 10%. The effect lasts for 30 minutes of logged-in time.
You can get these items from fighting Clawdia, from participating in the various beach activities, and by handing in a beach party ticket from the recent Summer Raffle.
Summer is here, and it's time to bust out the beachwear! The Lumbridge Crater Beach is hitting Happy Hour with Mods JD and Jon, and you'll be getting XP buffs and increased drop rates for the whole hour on all the stalls! Join us for flip-flops, frolics, sun and sand, and get a tasty XP boost in the bargain!